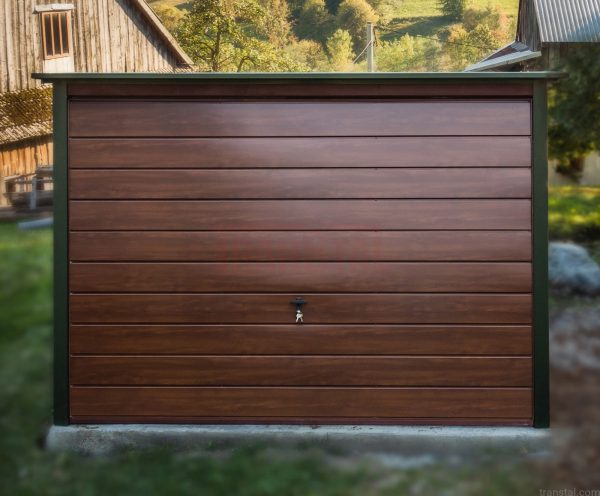 Metal garage 3m x 5m (9ft 10.11in x 16ft 4.85in) Walnut + Green matte
£ 4,900.00
Add to wishlist
Compare
Category: Metal Garages
Tags: best deal on metal garages, cheap metal garages for sale, garage steel frame, garages for sale uk, metal garage, metal garage buildings, metal garage kits, metal garage uk, metal garages for sale, metal garages uk, portable metal garage, prefab garage kits, prefabricated garages uk, steel frame garages, steel framed garages, steel garage, steel garage buildings, steel garages, steel garages for sale
Description
Unique 3m x 5m (9ft 10.11in x 16ft 4.85in) metal garage with a unique combination of premium colors – Walnut and matte green.
The up-and-over door is made in the form of a horizontal trapezoid in the color of Walnut. Walls, roof and fittings are in Matte Green.
Many years of durability, resistance to bending and deformation are ensured by the construction of the load-bearing structure from a closed profiles. The security of items stored in the garage is ensured by the standard lock with a key. Additionally, all elements of the structure are painted with a primer paint.
The reinforced color coating is resistant to weather conditions, which guarantees many years of color durability and easy cleaning.
Taking care of the aesthetic value, the mounting screws and rivets are painted in the color of the metal sheet.
There is a possibility of any configuration of dimensions, variants of gates and roof slopes. For this purpose, please contact our Customer Service Office.
Garage parameters:
width: 2,96m (9ft 8.54in)
length: 4,96m (16ft 3.28in)
total height at the front: 2,13m (6ft 11.86in)
entrance height: 1,85m (6ft 0.83in)
rear height: 1,88m (6ft 2.02in)
roof slope towards the rear
lock in the middle with two keys
up-and-over gate (equipped with springs, facilitating opening and closing)
mounting screws and rivets in color – Free! (does not apply to roofing screws)
Possible additions extra paid:
structure made of galvanized closed profiles
roof slope to the rear / front / left / right
possibility of any configuration of dimensions
anchoring to the ground
double-leaf gate or door
tilt window
gutters and drains
anti-condensation felt against water condensation
transparent roof
gate lifting mechanism
steel roof tile
sectional gate
rolling gate
removing the protective film from the garage
asembly of a garage
Other options according to customer specification
Delivery Free !!!!
Delivery from 1-6 weeks
Sometimes we need help unloading the garage.
The garage is available on an individual order, in the event of a purchase, it is not possible to withdraw from the order.
Only logged in customers who have purchased this product may leave a review.